Creatures fight for you on the field of battle and are capable of defending your Hero and attacking the opponent. Each deck can contain up to 10 Creature cards depending on your Player Level. You can win a battle by defeating all of your opponent's Creatures and, conversely, can lose the battle if the enemy destroys all of your creatures.
Creatures
Edit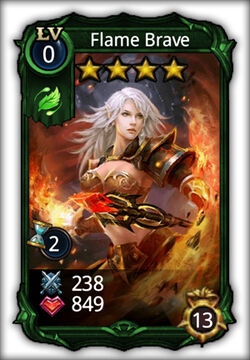 Creatures have multiple important stats to take into account when determining combat strength. Each creature has an ATK (Attack) number, an HP (Hit Point) number, a Star Rating, a Cost, a Wait Timer, a Faction, a Level and
Creature Skills
. Depending on your deck make-up and strategy, each Creature can bring its own unique value to the battlefield and at hand keeping (e.g. disposal protect)
Creature Rating
Edit
Creatures are rated on a scale from 1 to 5 stars. The creature rating represents the overall power and value of the card, where higher rated Creatures have higher base ATK & HP and better Creature Skills. Depending on the strategy and make-up of your team, higher rated Creatures may not necessarily be better for your deck but will always offer better base stats.
Creature Faction & Faction-Specific Skills
Edit
Creatures are divided into the four different factions of Human, Faen, Neander and Mortii. Many Creatures have Creature Skills that will buff or do increased damage to Creatures of a specific Faction. It is for this reason that it is sometimes easier to have many creatures of the same faction in deck, especially with multiple buffing creatures. There are, however, innate strengths and weaknesses between the factions, and by having a single-Faction deck, you open yourself up faction-based weaknesses.
Note : 5 Star Heroes Do NOT need a specific Faction to work their
Creature Skills & Creature Level
Edit
Each creature has 3 skills available to it innately, which are available at Level 0, Level 5 and Level 10. These skills are diverse and powerful which include: Buffs, Direct Damage, Healing, and other unique skills. The power and utility of the Creature Skill is not necessarily related to their Star Rating, although the overall power of higher rated Creatures often makes them a better choice.
Obtaining and Enhancing Creatures
Edit
Creatures can be obtained through exchanging Creature Shards and through the Altar in the Draw Creatures section as well as through Exploration, Mazes, the Gauntlet and select PVE engagements in the Explorer's Gate. For players looking for easy-to-obtain 5-star creatures, see the Remove Seal option. Enhancing Creatures unlocks at the Enhancement Center after completing a few dungeons in the Explorer's gate - you will be instructed to enhance your provided Flame Brave to introduce you to the enhancement feature. You can level up your Creatures to increase their ATK, HP and unlock new Creature Skills through enhancement.
Creature Shards
Edit
Creature Shards represent a fraction, or piece, of a Creature Card. The can be obtained through exploration of dungeons, as well as the Gauntlet Token Mall and Creature Shards can be earned through The Gauntlet, Trials, Raids, and Revenge battles as well as Dungeon Exploration and Guild-Related engagements including the Guild Maps.
For more information, please see the Shards page.
Leveling Up Creatures & Essences
Edit
Creatures can be Leveled up via the Enhance Creature in the Enhancement area of Deck Heroes. Each creature requires the sacrifice of other cards and Gold in order to level up. Higher value cards provide more experience than lower value cards in the Enhancement process.
Leveling up Creatures will increase their HP and ATK substantially and is necessary to unlock new Creature Skills. Each additional level costs more EXP to gain, but every creature's effective battle power reaches peaks at level 5, 10 and 15 because of the additional power added by unlocked Creature Skills.
For more information, including information on Evolution, please see the Enhancement page.
List of Creatures
Edit
Human Creatures
Edit
| Name | Rating | Base ATK | Base HP | Cost | Timer | Skill 1 | Skill 2 | Skill 3 | Source |
| --- | --- | --- | --- | --- | --- | --- | --- | --- | --- |
| Scout | ☆ | 86 | 300 | 3 | 2 | Block 1 | Consecrate 1 | Delay 1 | Maze, Lucky Spin, Coin Bag |
| Pikeman | ☆ | 95 | 330 | 3 | 2 | Stabthrough 1 | Consecrate 2 | Block 4 | Maze, Lucky Spin, Coin Bag |
| Marksman | ☆ | 110 | 370 | 4 | 2 | Assassinate 2 | Assassinate 4 | Cloudburst 2 | Maze, Lucky Spin, Coin Bag |
| Zealot | ☆ | 105 | 360 | 4 | 2 | Ambush 1 | Delay 1 | Counter 4 | Maze, Lucky Spin, Coin Bag |
| Apprentice | ☆ | 135 | 357 | 4 | 2 | Weakness 1 | Meteor 2 | Ice Arrow 4 | Maze, Lucky Spin, Coin Bag |
| Templar | ☆☆ | 156 | 533 | 6 | 4 | Stabthrough 2 | Warlust 2 | Battleblow 3 | Maze, Lucky Spin, Coin Bag, D2-1 Hard Reward |
| Empire Archer | ☆☆ | 168 | 615 | 6 | 4 | Stabthrough 3 | Assassinate 5 | Dodge 3 | Maze, Lucky Spin, Coin Bag |
| Sentinel | ☆☆ | 176 | 514 | 6 | 2 | Assassinate 2 | Weakness 3 | Assassinate 6 | Maze, Lucky Spin, Coin Bag |
| Protector | ☆☆ | 175 | 526 | 7 | 2 | Consecrate 2 | Battleblow 2 | Reflect 4 | Coupon Bag, Coin Bag, Maze, Lucky Spin, Gauntlet, D3-1 Hard Reward |
| Overseer | ☆☆ | 105 | 585 | 7 | 2 | Block 2 | Immunity 3 | Restoration 6 | Exploration @ 1-1, 1-3, 1-5, D1-6 Easy Reward |
| Missionary | ☆☆ | 112 | 462 | 7 | 2 | Bless 3 | Consecrate 4 | Humanity 3 | Maze, Lucky Spin, Coin Bag |
| Berserker | ☆☆ | 169 | 531 | 7 | 4 | Dodge 3 | Anger 3 | Sweeping Blow | Maze, Lucky Spin, Coin Bag |
| Praetor | ☆☆ | 135 | 593 | 7 | 2 | Block 3 | Consecrate 4 | Dodge 3 | Maze, Lucky Spin, Coin Bag |
| Elite Duelist | ☆☆ | 141 | 565 | 7 | 2 | Ice Arrow 1 | Battleblow 2 | Cloudburst 2 | Coupon Bag, Coin Bag, Maze, Lucky Spin, Gauntlet |
| Vicar | ☆☆ | 125 | 621 | 8 | 2 | Holy Light 4 | Consecrate 4 | Mass Heal 4 | Coupon Bag, Coin Bag, Maze, Lucky Spin, Gauntlet, D2-6 Hard Reward |
| Border Ranger | ☆☆☆ | 173 | 573 | 11 | 4 | Battleblow 2 | Assassinate 5 | Sweeping Blow | Maze, Lucky Spin, Coin Bag, Gem Bag |
| Divine Knight | ☆☆☆ | 183 | 650 | 9 | 4 | Battleblow 4 | Immunity 5 | Counter 5 | Maze, Lucky Spin, Coin Bag, Gem Bag |
| Empire Guard | ☆☆☆ | 205 | 623 | 9 | 4 | Battleblow 5 | Reflect 3 | Retaliate 5 | Maze, Lucky Spin, Coin Bag, Gem Bag |
| Flame Witch | ☆☆☆ | 158 | 555 | 9 | 2 | Meteor 2 | Blaze 2 | Incinerate 5 | Maze, Lucky Spin, Coin Bag, Gem Bag |
| Flame Mage | ☆☆☆ | 154 | 558 | 9 | 4 | Incinerate 4 | [S]Wild Pyre 4 | Cloudburst 6 | Maze, Lucky Spin, Coin Bag, Gem Bag |
| Pious Warden | ☆☆☆ | 235 | 666 | 9 | 4 | Weakness 5 | Reflect 3 | Consecrate 5 | Maze, Lucky Spin, Coin Bag, Gem Bag |
| Phantom Rogue | ☆☆☆ | 198 | 785 | 8 | 4 | Assassinate 3 | Dodge 4 | Battleblow 4 | Maze, Lucky Spin, Coin Bag, Gem Bag |
| Creatureinal | ☆☆☆ | 185 | 650 | 10 | 4 | Consecrate 4 | Cloudburst 5 | Counter 6 | Maze, Lucky Spin, Coin Bag, Gem Bag, D4-9 Easy Reward |
| Devotee | ☆☆☆ | 181 | 676 | 10 | 2 | Bless 6 | Consecrate 5 | Sage Advice 6 | Gem Bag, Coupon Bag, Coin Bag, Maze, Lucky Spin, Gauntlet |
| Royal Griffin | ☆☆☆ | 182 | 585 | 11 | 4 | [S]Thunderbolt 2 | Rebirth 2 | Reflect 3 | Maze, Lucky Spin, Coin Bag, Gem Bag |
| Archmage | ☆☆☆ | 211 | 630 | 11 | 4 | Cloudburst 5 | Stabthrough 5 | Consecrate 6 | Maze, Lucky Spin, Coin Bag, Gem Bag |
| Icy Mage | ☆☆☆☆ | 136 | 550 | 12 | 4 | Frostbite 3 | [S]Typhoon 5 | Flurry 6 | Exploration @ 7-3, 7-7 |
| Cleric | ☆☆☆☆ | 181 | 655 | 12 | 4 | Counter 4 | Mass Heal 4 | Humanity 7 | Gem Bag, Coupon Bag, Gauntlet, D7-11 Hard Reward |
| Sentry Angel | ☆☆☆☆ | 233 | 780 | 12 | 6 | Consecrate 6 | Restoration 7 | Frost Armor 5 | Exploration @ 7-11 |
| Juggernaut | ☆☆☆☆ | 296 | 997 | 12 | 4 | Anger 4 | Reflect 4 | Restoration 7 | Gem Bag, Coupon Bag, Maze, Lucky Spin, Gauntlet, D8-12 Hard Reward |
| Paladin | ☆☆☆☆ | 293 | 857 | 12 | 4 | Ambush 6 | Anger 8 | Bullseye | Exploration @ 7-1, 7-5, 7-9 |
| Colossus | ☆☆☆☆ | 236 | 1260 | 12 | 6 | Restoration 5 | Immunity 5 | Bloodrage 7 | Exploration @ 5-2, 5-5, 5-8 |
| Royal Dancer | ☆☆☆☆ | 215 | 840 | 13 | 4 | Sneak 5 | Pursuit 5 | Flurry 8 | Sign-In, Token Mall |
| Arcane Hunter | ☆☆☆☆ | 260 | 815 | 13 | 4 | Battleblow 4 | Ambush 7 | Dodge 8 | Maze |
| Seraph | ☆☆☆☆ | 281 | 1043 | 13 | 4 | Anger 7 | Restoration 6 | Unbound | Exploration @ 9-12 |
| Royal Knight | ☆☆☆☆ | 235 | 880 | 13 | 4 | Block 7 | Battleblow 5 | Humanity 6 | Gem Bag, Coupon Bag, Coin Bag, Maze, Lucky Spin, Gauntlet, D3-9 Hard Reward |
| Border Guard | ☆☆☆☆ | 260 | 1100 | 13 | 6 | Stoneskin | Consecrate 6 | Reflect 6 | Exploration @ 10-1, 10-4, 10-7 |
| Swordmaster | ☆☆☆☆ | 147 | 855 | 13 | 2 | Frost Armor 3 | Sweeping Blow | Maji Shield 6 | Maze, Lucky Spin, Gem Bag, Coupon Bag, Gauntlet |
| Techno-Chief | ☆☆☆☆ | 230 | 1050 | 13 | 4 | Sage Advice 4 | Bloodlust 3 | Sweeping Blow | Gem Bag, Coupon Bag, Coin Bag, Maze, Lucky Spin, Gauntlet |
| Arcane Master | ☆☆☆☆ | 220 | 820 | 14 | 4 | Dodge 2 | [S]Retreat | Fatigue 6 | Exploration @12-1, 12-5, 12-9, Sign-In, Token Mall |
| Oracle | ☆☆☆☆ | 175 | 800 | 14 | 4 | Bless 10 | Mass Heal 6 | Sage Advice 7 | Exploration @ 6-3, 6-6, 6-9 |
| Griffi-Knight | ☆☆☆☆ | 240 | 840 | 14 | 4 | Maji Shield 5 | Humanity 5 | Incinerate 8 | Maze, Lucky Spin, Gem Bag, Coupon Bag, Gauntlet |
| Royal Dragon | ☆☆☆☆ | 260 | 900 | 14 | 4 | Battleblow 4 | Stoneskin | Sage Advice 6 | Maze, Lucky Spin, Gem Bag, Coupon Bag, Gauntlet |
| Grand Mage | ☆☆☆☆ | 250 | 920 | 14 | 4 | Stoneskin | Reflect 4 | Mass Heal 5 | Exploration @ 10-2, 10-5, 10-8, 10-10 |
| Dame Coldfire | ☆☆☆☆ | 273 | 863 | 13 | 4 | Ice Arrow 7 | Pyre 5 | Frost Blade 5 | Exploration @ 11-1, 11-5, 11-9. |
| Chimera | ☆☆☆☆ | 248 | 1028 | 12 | 2 | Dispel 6 | Maji Shield 8 | Atom Flare 7 | Exploration @ 13-1, 13-5, 13-9, Sign-In |
| Michael | ☆☆☆☆ | 312 | 795 | 14 | 4 | Bullseye | Warlust 8 | Holy Shield 7 | Exploration @ 14-1, 14-5, 14-9, Gem Bag |
| Prima Donna | ☆☆☆☆ | 276 | 833 | 14 | 4 | Discord 9 | Dodge 7 | Flurry 8 | Limited Gem Bag |
| Mariner | ☆☆☆☆ | 235 | 1012 | 13 | 4 | Frostbite 5 | Frost Armor 6 | Soul Reap 6 | Exploration @ 15-1, 15-5, 15-9, Limited Gem Bag |
| Great Mystic | ☆☆☆☆☆ | 242 | 1215 | 16 | 6 | Incinerate 5 | Blaze 7 | Revive | Gem Bag |
| Titania | ☆☆☆☆☆ | 270 | 1125 | 15 | 4 | Ambush 9 | Chainstrike 7 | Rebirth 7 | Gem Bag, Coupon Bag, Maze, Lucky Spin, Gauntlet, Guild Map |
| Pontiff | ☆☆☆☆☆ | 293 | 1284 | 15 | 4 | Safeguard 7 | Frost Armor 4 | Rage Boost 6 | Lucky Spin, Guild Map |
| Ares | ☆☆☆☆☆ | 356 | 1206 | 16 | 4 | Reflect 7 | Dodge 8 | Bloodlust 7 | Seal |
| Balthazar | ☆☆☆☆☆ | 300 | 1347 | 16 | 4 | Maji Shield 7 | Humanity 7 | Disposal | Maze, Lucky Spin, Gem Bag, Coupon Bag, Gauntlet |
| Archdeva | ☆☆☆☆☆ | 365 | 1375 | 17 | 4 | Maji Shield 8 | Retreat | Mass Heal 8 | Gem Bag, Guild Map |
| Fafnir | ☆☆☆☆☆ | 350 | 1150 | 18 | 6 | Dodge 5 | Sweeping Blow | Immunity 8 | Maze, Guild Map |
| Paragon | ☆☆☆☆☆ | 450 | 1355 | 19 | 4 | Sage Advice 10 | Delay 3 | Torment | Guild Map, Human Booster |
| Bewitcher | ☆☆☆☆☆ | 450 | 1225 | 19 | 4 | Soul Split | Dark Clone | Revocation | Transmutation |
| Mythril Drone | ☆☆☆☆☆ | 566 | 1520 | 19 | 4 | Mythril | Immunity 8 | Spellbinder | Ore Mall, Human Booster |
| Angel Prime | ☆☆☆☆☆ | 375 | 1080 | 16 | 4 | Bullseye | Dodge 9 | Ignite Soul | Guild Map |
| Kirtana | ☆☆☆☆☆ | 325 | 975 | 19 | 4 | Pyre 7 | Tempest 8 | Holy Shield 10 | Human Booster |
| Santa Baus | ☆☆☆☆☆ | 333 | 1322 | 18 | 4 | Stoneskin | Frost Armor 10 | Merry X-mas | This Creature Shard cannot be obtained from Dungeons. |
| Shinryu | ☆☆☆☆☆ | 356 | 1325 | 18 | 4 | Rain Dance | Maelstrom | Dragon Ascension | New Lunar Booster |
| Azure Dragon | ☆☆☆☆☆ | 356 | 1325 | 18 | 4 | Rain Dance | Maelstrom | Dragon Ascension | Sky Arena |
| Cancer | ☆☆☆☆☆ | 301 | 1302 | 21 | 6 | Block 10 | Immunity 10 | Rancor | Event Booster, Limited Gem Bag |
| Arcane Sage | ☆☆☆☆☆ | 352 | 1086 | 20 | 4 | Blaze 10 | Sneak 9 | Vacuum Bomb | Limited Booster |
| Lady Liberty | ☆☆☆☆☆ | 288 | 998 | 22 | 2 | Sweeping Blow | Unbound | Lion Heart | Event Booster, Holiday Event, New Lunar Booster |
| Imperator | ☆☆☆☆☆ | 266 | 1423 | 21 | 4 | Stoneskin | Sweeping Blow | Amplify | Event Booster, Holiday Event |
| Columbus | ☆☆☆☆☆ | 322 | 1266 | 20 | 4 | Safeguard 9 | Frost Blade 10 | Surge | Event Booster, Holiday Event |
| Leo | ☆☆☆☆☆ | 360 | 1122 | 20 | 4 | Unbound | Warlust 10 | Roar | Event Booster, Holiday Event |
| Sylph | ☆☆☆☆☆ | 311 | 1231 | 22 | 4 | Thor's Rage 10 | Immunity 7 | Dodge 9 | Event Booster, Holiday Event |
| Vindicator | ☆☆☆☆☆ | 321 | 1235 | 21 | 4 | Immunity 10 | Holy Shield 10 | Vacuum Bomb | Event Booster, Holiday Event |
| Aquarius | ☆☆☆☆☆ | 285 | 1355 | 23 | 4 | Frost Blade 10 | Freezing Field | Hibernate | Event Booster, Holiday Event |
| Royal Beastmaster | ☆☆☆☆☆ | 453 | 1226 | 22 | 2 | Block 10 | Unbound | Battle Trance | Mines |
| Hera | ☆☆☆☆☆ | 312 | 1312 | 19 | 2 | Mass Heal 10 | Rebirth 7 | Miracle Healing 1 | Holiday Event |
| Thisbe | ☆☆☆☆☆ | 272 | 1135 | 23 | 4 | Lover's Oath | Unbreakable Bond | Parted by Death | Holiday Event |
| Pyramus | ☆☆☆☆☆ | 280 | 1264 | 23 | 4 | Lover's Oath | Unbreakable Bond | Parted by Death | Holiday Event |
| Sigurd | ☆☆☆☆☆ | 326 | 1275 | 20 | 4 | Bullseye | Battleblow 6 | Ice Veil 1 | Event Booster, Faction War |
| Napoleon | ☆☆☆☆☆ | 365 | 1322 | 20 | 4 | Rampart 6 | Sweeping Blow | Sneak 10 | Event Booster, Holiday Event |
| Hanzo | ☆☆☆☆☆ | 378 | 1168 | 18 | 2 | Dodge 7 | Assassinate 8 | Concealed Strike 1 | Momoya, Event Booster |
| Lady Bloom | ☆☆☆☆☆ | 351 | 1185 | 19 | 4 | Battleblow 6 | Bullseye | Rampart 7 | Guild Map |
| Demon Hunter | ☆☆☆☆☆ | 364 | 1163 | 22 | 4 | Life Sap 8 | Unbound | Sacrifice 10 | Faction War |
| Geomancer | ☆☆☆☆☆ | 265 | 1223 | 22 | 4 | Venom Edge 7 | Retreat | Torment | Event Booster, Limited Gem Bag |
| Plague Doctor | ☆☆☆☆☆ | 312 | 1212 | 20 | 4 | Plunder Vitality 1 | Sacrifice 9 | Immunity 8 | Momoya |
| Arcane Conjurer | ☆☆☆☆☆ | 284 | 1189 | 20 | 4 | Pyre 7 | Reflect 8 | Corrosion 1 | Purchase Rewards, Faction War |
| Queen Artolia | ☆☆☆☆☆ | 430 | 1365 | 19 | 4 | Unbound | Excalibur 1 | Unwavering Spirit 1 | Limited Gem Bag, Sky Arena |
| Freya | ☆☆☆☆☆ | 325 | 1243 | 18 | 2 | [S]Mass Charm | Cleanse 4 | Revive | Sky Arena |
| Armsmaster | ☆☆☆☆☆ | 354 | 1522 | 17 | 4 | Rampart 5 | Maji Shield | Holy Shield 8 | Event Booster, Limited Gem Bag |
| Loki | ☆☆☆☆☆ | 423 | 1688 | 28 | 4 | Overpower 1 | Ghastly Apparition 1 | Malicious Ember 1 | Seal |
| Jubei | ☆☆☆☆☆ | 363 | 1412 | 18 | 4 | Unbound | Rampart 6 | Camaraderie 1 | Event Booster |
Faen Creatures
Edit
| Name | Rating | Base ATK | Base HP | Cost | Timer | Skill 1 | Skill 2 | Skill 3 | Source |
| --- | --- | --- | --- | --- | --- | --- | --- | --- | --- |
| Faen Warden | ☆ | 95 | 308 | 3 | 2 | Block 1 | Miasma 3 | Counter 4 | Maze, Lucky Spin, Coin Bag |
| Faen Brave | ☆ | 85 | 274 | 3 | 2 | Restoration 1 | Ice Arrow 2 | Dodge 1 | Maze, Lucky Spin, Coin Bag |
| Bloom Warden | ☆ | 90 | 286 | 3 | 2 | Holy Light 2 | Meteor 1 | Dodge 2 | Maze, Lucky Spin, Coin Bag |
| Faen Hound | ☆ | 116 | 285 | 4 | 2 | Ambush 1 | Miasma 4 | Bloodlust 3 | Maze, Lucky Spin, Coin Bag |
| Wind Warden | ☆ | 75 | 396 | 4 | 4 | Dodge 1 | Block 3 | Counter 4 | Maze, Lucky Spin, Coin Bag |
| Centaur Grunt | ☆☆ | 142 | 516 | 5 | 2 | Miasma 3 | Stabthrough 5 | Assassinate 4 | Exploration @ 1-2, 1-4, 1-6, D2-2 Hard Reward |
| Wood Patrol | ☆☆ | 111 | 455 | 6 | 2 | Assassinate 1 | Restoration 2 | Ambush 4 | Maze, Lucky Spin, Coin Bag, D2-5 Hard Reward |
| Flame Warden | ☆☆ | 151 | 511 | 6 | 4 | Incinerate 2 | Sprite Link 3 | Incinerate 3 | Maze, Lucky Spin, Coin Bag |
| Faen Archer | ☆☆ | 137 | 493 | 6 | 2 | Assassinate 2 | Miasma 5 | Assassinate 5 | Maze, Lucky Spin, Coin Bag, D3-8 Hard Reward |
| Faen Rogue | ☆☆ | 177 | 609 | 6 | 4 | Block 2 | Hobble 1 | Anger 3 | Coupon Bag, Coin Bag, Maze, Lucky Spin, Gauntlet |
| Centaur Tracker | ☆☆ | 130 | 570 | 7 | 2 | Miasma 4 | Counter 4 | Restoration 6 | Maze, Lucky Spin, Coin Bag, D3-2 Hard Reward |
| Faen Hunter | ☆☆ | 144 | 579 | 7 | 4 | Elven Salve 2 | Delay 1 | Block 5 | Maze, Lucky Spin, Coin Bag |
| Faen Warrior | ☆☆ | 134 | 495 | 7 | 2 | Block 3 | Miasma 4 | Dodge 3 | Maze, Lucky Spin, Coin Bag |
| Faen Guard | ☆☆ | 161 | 556 | 8 | 4 | Sprite Link 2 | Block 4 | Miasma 6 | Coupon Bag, Coin Bag, Maze, Lucky Spin, Gauntlet |
| Frost Warden | ☆☆ | 121 | 518 | 8 | 2 | Ice Arrow 5 | [S]Heart Wave 5 | Ice Arrow 7 | Maze, Lucky Spin, Coin Bag, D2-3 Easy Reward |
| Faen Marksman | ☆☆☆ | 168 | 472 | 9 | 4 | Assassinate 5 | Battleblow 5 | Assassinate 7 | Maze, Lucky Spin, Coin Bag, Gem Bag |
| Elementalist | ☆☆☆ | 192 | 678 | 9 | 4 | Holy Light 4 | Miasma 6 | Cloudburst 6 | Maze, Lucky Spin, Coin Bag, Gem Bag, D3-8 Easy Reward |
| Faen Guardian | ☆☆☆ | 122 | 600 | 9 | 4 | Meteor 3 | Restoration 4 | Sprite Link 4 | Maze, Lucky Spin, Coin Bag, Gem Bag |
| Voltic Priest | ☆☆☆ | 136 | 620 | 9 | 4 | Cloudburst 2 | Holy Light 5 | Elven Salve 5 | Exploration @ 3-1, 3-4, Maze, Lucky Spin, Coin Bag, Gem Bag, D3-1 Hard Reward. |
| Treant Weaver | ☆☆☆ | 184 | 617 | 10 | 4 | Restoration 4 | Cloudburst 4 | Retaliate 6 | Exploration @ 5-10 |
| Magic Weaver | ☆☆☆ | 110 | 484 | 10 | 2 | Mass Heal 4 | Meteor 5 | Incinerate 4 | Maze, Lucky Spin, Coin Bag, Gem Bag, D3-9 Easy Reward |
| Ash Highguard | ☆☆☆ | 215 | 780 | 10 | 4 | Immunity 4 | Block 5 | Restoration 6 | Maze, Lucky Spin, Coin Bag, Gem Bag |
| Treant Ranger | ☆☆☆ | 125 | 800 | 10 | 4 | Counter 7 | Restoration 6 | Retaliate 6 | Gem Bag, Coupon Bag, Coin Bag, Maze, Lucky Spin, Gauntlet |
| Wood Stalker | ☆☆☆ | 186 | 716 | 10 | 2 | Stabthrough 4 | Assassinate 5 | Miasma 6 | Maze, Lucky Spin, Coin Bag, Gem Bag, D5-10 Easy Reward |
| Treant Guide | ☆☆☆ | 160 | 588 | 10 | 4 | Mass Heal 3 | Elven Salve 4 | Mass Heal 5 | Exploration @ 4-2, 4-5, 4-7 |
| Dream Healer | ☆☆☆ | 205 | 750 | 10 | 4 | Holy Light 4 | Mass Heal 4 | Discord 4 | Exploration @ 4-1, 4-4 |
| Pegasus | ☆☆☆ | 127 | 588 | 11 | 4 | Bolt 2 | Thunderbolt 2 | Dodge 5 | Maze, Lucky Spin, Coin Bag, Gem Bag |
| Druid | ☆☆☆ | 155 | 575 | 11 | 2 | Ice Arrow 4 | Weakness 3 | Restoration 5 | Maze, Lucky Spin, Coin Bag, Gem Bag |
| Centaur Guide | ☆☆☆ | 145 | 584 | 11 | 4 | Sprite Link 3 | Mass Heal 4 | Elven Salve 7 | Maze, Lucky Spin, Coin Bag, Gem Bag |
| Frost Rager | ☆☆☆ | 150 | 538 | 11 | 4 | Frost Armor 3 | Restoration 6 | Elven Salve 6 | Exploration @ 3-2, 3-5, 3-7, D3-1 Easy Reward |
| Faen Ranger | ☆☆☆ | 160 | 676 | 11 | 4 | Sprite Link 3 | Delay 1 | Elven Salve 5 | Maze, Lucky Spin, Coin Bag, Gem Bag |
| Centaur Chief | ☆☆☆☆ | 262 | 850 | 12 | 4 | Miasma 8 | Block 7 | Warlust 5 | Maze, Lucky Spin, Gem Bag, Coupon Bag, Gauntlet |
| Moon Walker | ☆☆☆☆ | 285 | 920 | 12 | 4 | Miasma 7 | Reflect 4 | Picking Off 7 | Exploration @ 7-2, 7-6, 7-10 |
| Arrow Brave | ☆☆☆☆ | 255 | 799 | 12 | 4 | Battleblow 5 | Miasma 6 | Dodge 5 | Exploration @ 8-2, 8-5, 8-8, 8-10 |
| Treant Elder | ☆☆☆☆ | 270 | 820 | 13 | 4 | Restoration 6 | Picking Off 6 | Mass Heal 6 | Sign-In, Token Mall |
| Pale Dragon | ☆☆☆☆ | 281 | 1087 | 13 | 6 | Miasma 6 | Reflect 6 | Sprite Link 6 | Maze, Lucky Spin, Gem Bag, Coupon Bag, Gauntlet |
| Faen Rampager | ☆☆☆☆ | 285 | 1079 | 13 | 6 | Delay 1 | Block 8 | Restoration 8 | Maze, Lucky Spin, Gem Bag, Coupon Bag, Gauntlet |
| Flame Brave | ☆☆☆☆ | 238 | 849 | 13 | 2 | Meteor 5 | Pyre 7 | Blaze 6 | Maze, D1-1 Easy Reward |
| Pegasus Lord | ☆☆☆☆ | 300 | 834 | 13 | 4 | Miasma 6 | Cloudburst 7 | Restoration 8 | Maze, Lucky Spin, Gem Bag, Coupon Bag, Gauntlet, D5-10 Hard Reward |
| Faen Mesmer | ☆☆☆☆ | 217 | 1230 | 13 | 6 | Bloodrage 8 | Discord 5 | Sprite Link 7 | Maze, Lucky Spin, Gem Bag, Coupon Bag, Gauntlet |
| Master Guide | ☆☆☆☆ | 276 | 797 | 14 | 4 | Holy Light 4 | Elven Salve 5 | Delay 2 | Exploration @ 12-2, 12-6, 12-10, Sign-In, Token Mall |
| Satyr Sentry | ☆☆☆☆ | 260 | 980 | 14 | 4 | Miasma 6 | Sprite Link 5 | Elven Salve 6 | Maze, Lucky Spin, Gem Bag, Coupon Bag, Gauntlet |
| Dream Guide | ☆☆☆☆ | 304 | 862 | 14 | 4 | Bless 6 | Rebirth 6 | Sprite Link 7 | Exploration @ 6-2, 6-5, 6-8 |
| Light Brave | ☆☆☆☆ | 205 | 775 | 14 | 4 | Bolt 8 | Rebirth 6 | Dodge 8 | Maze, Lucky Spin, Gem Bag, Coupon Bag, Gauntlet |
| Horned Beast | ☆☆☆☆ | 223 | 675 | 14 | 4 | Immunity 7 | Mass Heal 5 | Dodge 6 | Exploration @ 5-3, 5-6, 5-9 |
| Naga Mistress | ☆☆☆☆ | 205 | 805 | 14 | 4 | Ice Arrow 7 | Mass Heal 6 | Tempest 5 | Exploration @ 9-4, 9-8 |
| Henrietta | ☆☆☆☆ | 232 | 765 | 14 | 4 | Mass Heal 6 | Elven Salve 7 | Cleanse 1 | Exploration @ 11-2, 11-6, 11-10 |
| Valkyrie | ☆☆☆☆ | 312 | 985 | 14 | 2 | Bullseye | Dodge 7 | Wings of Aegis | Exploration @ 13-2, 13-6, 13-10, Sign-In |
| Horus | ☆☆☆☆ | 199 | 844 | 13 | 4 | Thor's Rage 5 | Block 7 | Retaliate 8 | Exploration @ 14-2, 14-6, 14-10, Limited Gem Bag |
| Laurel | ☆☆☆☆ | 298 | 973 | 14 | 4 | Battleblow 6 | Weakness 8 | Block 6 | Exploration @ 15-2, 15-6, 15-10, Limited Gem Bag |
| Moon Guardian | ☆☆☆☆☆ | 260 | 1197 | 15 | 4 | Reflect 6 | Sneak 8 | Stoneskin | Seal |
| Phoenix | ☆☆☆☆☆ | 340 | 1291 | 16 | 4 | Pyre 8 | Restoration 7 | Rebirth 8 | Seal |
| Mimir's Tree | ☆☆☆☆☆ | 354 | 1384 | 16 | 6 | Battleblow 6 | Block 8 | Immunity 8 | Gem Bag, Guild Map |
| Ash Beast | ☆☆☆☆☆ | 320 | 1359 | 16 | 4 | Mass Heal 6 | Unbound | Sweeping Blow | Gem Bag, Coupon Bag, Maze, Lucky Spin, Gauntlet, Guild Map |
| Hanuman | ☆☆☆☆☆ | 400 | 1350 | 16 | 4 | Maji Shield 8 | Holy Light 10 | [S]Disposal | Gem Bag, Coupon Bag, Maze, Lucky Spin, Gauntlet, Guild Map |
| Yggdryad | ☆☆☆☆☆ | 315 | 1261 | 17 | 4 | Safeguard 7 | Dodge 6 | Delay 2 | Gem Bag, Guild Map |
| Fae Firstborn | ☆☆☆☆☆ | 345 | 1119 | 17 | 4 | Frostbite 6 | [D]Healing Breath | Rebirth 5 | Lucky Spin, Guild Map |
| Hippolyta | ☆☆☆☆☆ | 305 | 1276 | 18 | 6 | [S]Retreat | Recycle 2 | Elven Salve 9 | Maze |
| Blood Elf | ☆☆☆☆☆ | 512 | 1244 | 19 | 4 | Life Sap 7 | Soul Snatch 7 | Shatter Soul | Faen Booster |
| Lucky Sage | ☆☆☆☆☆ | 398 | 1145 | 19 | 4 | [S]Retreat | Rebirth 9 | Silver Starfall 10 | Faen Booster |
| Sea Wizard | ☆☆☆☆☆ | 375 | 1411 | 19 | 4 | Tempest 8 | Sweeping Blow | Frost Blade 10 | Guild Map, Faen Booster |
| Blossoms | ☆☆☆☆☆ | 296 | 1065 | 18 | 4 | Dodge 7 | Flourish 5 | Pyre 10 | Momoya, Faen Booster |
| Dragonlord | ☆☆☆☆☆ | 374 | 1325 | 19 | 4 | Bless 10 | Frost Armor 8 | Immunity 8 | Faen Booster, Dungeon 13-12 Hard |
| Gaia | ☆☆☆☆☆ | 365 | 1188 | 19 | 4 | Divine Grace | Spite | Revitalize | Holiday Event |
| Sagittarius | ☆☆☆☆☆ | 344 | 1066 | 19 | 4 | Dodge 7 | Picking Off 10 | Arrow Split | Event Booster, Limited Gem Bag |
| Libra | ☆☆☆☆☆ | 322 | 1288 | 21 | 4 | Weakness 10 | Sweeping Blow | Balance | Event Booster, Limited Gem Bag |
| Axe Warden | ☆☆☆☆☆ | 342 | 1133 | 20 | 4 | Battleblow 6 | Rip | Quash | Transmutation |
| Alice | ☆☆☆☆☆ | 278 | 1322 | 22 | 4 | Mass Heal 10 | Immunity 8 | Purge | Event Booster, Limited Gem Bag |
| Arcane Knight | ☆☆☆☆☆ | 326 | 1264 | 21 | 4 | Pyre 10 | Surround | Arcane Force | Limited Gem Bag |
| Santa Claudia | ☆☆☆☆☆ | 313 | 1322 | 18 | 4 | Immunity 8 | Sanctify 10 | Merry X-mas | Event Booster, Holiday Event |
| Chrono | ☆☆☆☆☆ | 353 | 1277 | 22 | 4 | Dodge 7 | Rebirth 7 | Time Reversal | Sky Arena |
| Demeter | ☆☆☆☆☆ | 266 | 1211 | 20 | 4 | Immunity 7 | Mass Heal 10 | Bumper Harvest | Limited Gem Bag |
| Forest Sage | ☆☆☆☆☆ | 569 | 1578 | 17 | 4 | Sprite Link 9 | Weakness 6 | Pyre 8 | Limited Gem Bag |
| Fairy Fencer | ☆☆☆☆☆ | 1569 | 745 | 19 | 4 | Dodge 7 | Flurry 9 | Sneak 8 | Limited Gem Bag, Total Spendings Reward |
| Sylvan Enchantress | ☆☆☆☆☆ | 287 | 1253 | 19 | 4 | Mass Heal 8 | Unbound | Bewitching Melody | Event Booster, Faction War |
| Aries | ☆☆☆☆☆ | 364 | 1211 | 20 | 2 | Pyre 9 | Blaze 9 | Invocation | Sky Arena |
| Ordnance | ☆☆☆☆☆ | 346 | 1335 | 23 | 4 | Rampart 8 | Immunity 8 | Demolition Beam 1 | Sky Arena, Relic Chests, Event Booster |
| Mindflayer | ☆☆☆☆☆ | 487 | 1420 | 19 | 2 | Dodge 8 | Flog 1 | Neurotoxin 1 | Relic Chests |
| Lunar Goddess | ☆☆☆☆☆ | 312 | 1420 | 19 | 4 | Sanctify 5 | Recycle 2 | Lunar's Grace | Sky Arena |
| Fairy Princess | ☆☆☆☆☆ | 357 | 1475 | 17 | 4 | Mass Heal 7 | Cleanse 3 | Rampart 5 | Sky Arena |
| Crystal Drake | ☆☆☆☆☆ | 412 | 1325 | 19 | 4 | Sweeping Blow | Afflict 7 | Crystal Ward | Sky Arena |
| Silver Carp | ☆☆☆☆☆ | 253 | 1643 | 18 | 2 | Shatter Soul 7 | Rebirth 7 | Carpet Bomb 1 | Event Booster, Faction War |
| Unicorn Lancer | ☆☆☆☆☆ | 432 | 1264 | 18 | 2 | Soul Snatch 5 | Bullseye | Overwhelm | Event Booster, Sky Arena |
Neander Creatures
Edit
| Name | Rating | Base ATK | Base HP | Cost | Timer | Skill 1 | Skill 2 | Skill 3 | Source |
| --- | --- | --- | --- | --- | --- | --- | --- | --- | --- |
| Neander Tauro | ☆ | 95 | 365 | 3 | 2 | Ravage 2 | Counter 3 | Anger 4 | Maze, Lucky Spin, Coin Bag |
| Neander Hippo | ☆ | 75 | 278 | 3 | 2 | Stinger 1 | Delay 1 | Battleblow 4 | Maze, Lucky Spin, Coin Bag |
| Flying Fox | ☆ | 97 | 275 | 4 | 2 | Life Sap 2 | Ravage 3 | Gas Cloud 3 | Maze, Lucky Spin, Coin Bag |
| Nean Thrall | ☆ | 90 | 350 | 4 | 2 | Block 1 | Ravage 4 | Ice Arrow 6 | Maze, Lucky Spin, Coin Bag |
| Shaman Adept | ☆ | 88 | 335 | 4 | 2 | Detonate 1 | Delay 1 | Cloudburst 3 | Maze, Lucky Spin, Coin Bag |
| Tauros Seeker | ☆☆ | 135 | 455 | 5 | 4 | Battleblow 3 | Life Sap 5 | Ravage 7 | Maze, Lucky Spin, Coin Bag, D1-5 Hard Reward |
| Witch Doctor | ☆☆ | 110 | 450 | 5 | 4 | Stinger 2 | Detonate 2 | Feral Fever 3 | Maze, Lucky Spin, Coin Bag, D2-3 Hard Reward |
| Nean Warhog | ☆☆ | 157 | 475 | 5 | 4 | Earth Totem 2 | Block 4 | Counter 5 | Coupon Bag, Coin Bag, Maze, Lucky Spin, Gauntlet, D3-4 Hard Reward |
| Sandstalker | ☆☆ | 163 | 470 | 7 | 4 | Stinger 4 | Ambush 3 | Ravage 6 | Maze, Lucky Spin, Coin Bag |
| Wolf Rider | ☆☆ | 150 | 516 | 7 | 4 | Venom Edge 4 | Counter 4 | Restoration 5 | Maze, Lucky Spin, Coin Bag |
| Elder Shaman | ☆☆ | 149 | 512 | 7 | 2 | Ravage 4 | Ambush 4 | Detonate 6 | Maze, Lucky Spin, Coin Bag, D3-7 Hard Reward |
| Black Widow | ☆☆ | 250 | 510 | 7 | 2 | Injured 5 | Life Sap 7 | Afflict 4 | Coupon Bag, Coin Bag, Maze, Lucky Spin, Gauntlet |
| Bloodseeker | ☆☆ | 134 | 490 | 7 | 2 | Life Sap 4 | Ravage 4 | Dodge 3 | Exploration @ 2-1, 2-3, 2-5 |
| Venom Queen | ☆☆ | 155 | 430 | 8 | 2 | Stinger 5 | Afflict 2 | Gas Cloud 4 | Maze, Lucky Spin, Coin Bag, D3-3 Hard Reward |
| Wifwulf | ☆☆ | 165 | 568 | 8 | 2 | Ravage 3 | Bloodlust 4 | Anger 6 | Maze, Lucky Spin, Coin Bag |
| Troll Scout | ☆☆☆ | 203 | 700 | 9 | 6 | Ambush 6 | Ravage 6 | Bloodlust 7 | Gem Bag, Coupon Bag, Coin Bag, Maze, Lucky Spin, Gauntlet |
| Harpy Queen | ☆☆☆ | 194 | 685 | 9 | 4 | Gas Cloud 3 | Ravage 7 | Delay 1 | Maze, Lucky Spin, Coin Bag, Gem Bag |
| Blood Warlock | ☆☆☆ | 175 | 580 | 9 | 4 | Bless 7 | Gas Cloud 5 | Mass Heal 6 | Exploration @ 6-1, 6-4, 6-7 |
| Desert Sting | ☆☆☆ | 186 | 667 | 9 | 4 | Ravage 5 | Stinger 6 | Ambush 5 | Maze, Lucky Spin, Coin Bag, Gem Bag, D2-6 Hard Reward |
| Blood Shaman | ☆☆☆ | 156 | 649 | 9 | 4 | Incinerate 3 | Weakness 6 | Feral Fever 5 | Maze, Lucky Spin, Coin Bag, Gem Bag |
| Hippo Raider | ☆☆☆ | 195 | 690 | 10 | 6 | Battleblow 4 | [D]Atrophy 6 | Earth Totem 6 | Gem Bag, Coupon Bag, Coin Bag, Maze, Lucky Spin, Gauntlet |
| Panther Guard | ☆☆☆ | 189 | 648 | 10 | 2 | Stabthrough 4 | Bloodlust 4 | Life Sap 6 | Maze, Lucky Spin, Coin Bag, Gem Bag |
| Troll Mage | ☆☆☆ | 220 | 753 | 10 | 4 | [D]Backdraft 5 | Anger 6 | Bloodlust 6 | Exploration @ 4-8, 4-9 |
| Troll Guard | ☆☆☆ | 155 | 800 | 10 | 4 | Block 5 | Flaming 5 | Earth Totem 6 | Gem Bag, Coupon Bag, Coin Bag, Maze, Lucky Spin, Gauntlet |
| Feline Lurker | ☆☆☆ | 205 | 684 | 10 | 4 | [S]Lethargy 4 | Bloodlust 4 | Battleblow 7 | Maze, Lucky Spin, Coin Bag, Gem Bag |
| Fire Lizard | ☆☆☆ | 155 | 554 | 10 | 2 | Meteor 4 | Gas Cloud 2 | Detonate 4 | Exploration @ 4-3, 4-6 |
| Blood Soldier | ☆☆☆ | 185 | 595 | 11 | 2 | Bloodlust 5 | Restoration 4 | Block 7 | Maze, Lucky Spin, Coin Bag, Gem Bag |
| Lazy Guard | ☆☆☆ | 180 | 794 | 11 | 4 | Venom Edge 4 | Block 7 | Dodge 6 | Gem Bag, Coupon Bag, Coin Bag, Maze, Lucky Spin, Gauntlet |
| Rite Master | ☆☆☆ | 175 | 711 | 11 | 2 | Block 4 | Anger 5 | Restoration 5 | Maze, Lucky Spin, Coin Bag, Gem Bag |
| Alert Guard | ☆☆☆ | 210 | 640 | 11 | 2 | Block 5 | Battleblow 8 | Stoneskin | Maze, Lucky Spin, Coin Bag, Gem Bag, D8-12 Easy Reward |
| Tauro General | ☆☆☆☆ | 280 | 1102 | 12 | 6 | Battleblow 5 | Anger 6 | Restoration 7 | Exploration @ 8-1, 8-4, 8-7 |
| Howling King | ☆☆☆☆ | 253 | 890 | 12 | 4 | Ravage 6 | Reflect 4 | Bloodlust 6 | Maze, Lucky Spin, Gem Bag, Coupon Bag, Gauntlet |
| Neander Giant | ☆☆☆☆ | 225 | 1071 | 12 | 6 | Retaliate 6 | Restoration 6 | Anger 7 | Gem Bag, Coupon Bag, Coin Bag, Maze, Lucky Spin, Gauntlet |
| Panther Chief | ☆☆☆☆ | 260 | 896 | 13 | 4 | Anger 5 | Warlust 8 | Life Sap 8 | Exploration @ 8-12 |
| Ursa Major | ☆☆☆☆ | 245 | 915 | 13 | 4 | Stabthrough 7 | Frost Armor 7 | Anger 6 | Maze |
| Neamazon | ☆☆☆☆ | 260 | 964 | 13 | 6 | Bloodlust 7 | Feral Fever 5 | Counter 10 | Maze, Lucky Spin, Gem Bag, Coupon Bag, Gauntlet |
| Warband Chief | ☆☆☆☆ | 245 | 838 | 13 | 6 | Counter 7 | Ravage 7 | Feral Fever 6 | Exploration @ 7-4, 7-8 |
| Tauros Elder | ☆☆☆☆ | 255 | 842 | 13 | 4 | Battleblow 7 | Block 7 | Earth Totem 7 | Exploration @ 8-3, 8-6, 8-9, 8-11 |
| Mammoth Rider | ☆☆☆☆ | 284 | 1223 | 13 | 6 | Block 2 | Retaliate 6 | Rip | Gem Bag, Coupon Bag, Coin Bag, Maze, Lucky Spin, Gauntlet |
| Icy Huntress | ☆☆☆☆ | 245 | 935 | 14 | 4 | Ambush 5 | Earth Totem 6 | Delay 2 | Sign-In, Token Mall |
| Graboid | ☆☆☆☆ | 269 | 1154 | 14 | 6 | Stoneskin | Ravage 7 | Sweeping Blow | Exploration @ 10-3, 10-6, 10-9, 10-11 |
| Flame Master | ☆☆☆☆ | 253 | 900 | 14 | 4 | Pyre 6 | Life Sap 6 | Feral Fever 7 | Explore @ 9-1, 9-5, 9-9 |
| Cyclops | ☆☆☆☆ | 246 | 982 | 14 | 6 | [S]Lethargy 5 | Sweeping Blow | [S]Instakill | Exploration @ 12-3, 12-7, 12-11, Sign-In, Token Mall |
| Nean Raptor | ☆☆☆☆ | 250 | 1106 | 14 | 4 | Dodge 4 | Maji Shield 6 | Rip | Maze, Lucky Spin, Gem Bag, Coupon Bag, Gauntlet, D9-12 Easy Reward |
| The Twins | ☆☆☆☆ | 247 | 712 | 14 | 4 | Stoneskin | Twin Defense | Twin Terror | Exploration @ 11-3, 11-7, 11-11 |
| Ophiuchus | ☆☆☆☆ | 223 | 625 | 13 | 4 | Gas Cloud 6 | Dodge 7 | Meteor Rain | Exploration @13-3, 13-7, 13-11, Sign-In |
| Kirin | ☆☆☆☆ | 189 | 821 | 13 | 4 | Pyre 8 | Battleblow 7 | Ambush 10 | Exploration @14-3, 14-7, 14-11, Sky Arena |
| Fenrir | ☆☆☆☆ | 288 | 986 | 14 | 2 | Restoration 10 | Dodge 7 | Battleblow 8 | Exploration @ 15-3, 15-7, 15-11, Limited Gem Bag |
| Wolveria | ☆☆☆☆ | 215 | 844 | 14 | 2 | Ambush 8 | Rage Boost 5 | Feral Fever 8 | Limited Gem Bag |
| Griffin Rider | ☆☆☆☆ | 243 | 973 | 12 | 2 | Dodge 5 | Assassinate 8 | Life Sap 7 | Limited Gem Bag |
| Tidal Siren | ☆☆☆☆☆ | 216 | 1151 | 14 | 4 | Tempest 5 | Discord 7 | Rebirth 7 | Gem Bag |
| Sekhmet | ☆☆☆☆☆ | 279 | 1611 | 15 | 6 | Life Sap 6 | Bloodrage 8 | Unbound | Lucky Spin, Guild Map |
| Venom Tyrant | ☆☆☆☆☆ | 335 | 1330 | 15 | 4 | Sacrifice 8 | Gas Cloud 8 | Restoration 9 | Seal |
| Spider Queen | ☆☆☆☆☆ | 360 | 1267 | 16 | 6 | Venom Edge 8 | Ravage 9 | Immunity 9 | Seal |
| Anathema | ☆☆☆☆☆ | 325 | 1375 | 16 | 4 | Gas Cloud 8 | Stoneskin | Bullseye | Gem Bag, Coupon Bag, Maze, Lucky Spin, Gauntlet, Guild Map |
| Nidhogg | ☆☆☆☆☆ | 290 | 1375 | 17 | 4 | Earth Totem 10 | Stoneskin | Delay 3 | Gem Bag, Coupon Bag, Maze, Lucky Spin, Gauntlet, Guild Map |
| Quetzalcoatl | ☆☆☆☆☆ | 340 | 1212 | 17 | 4 | Plague 8 | Weakness 10 | Rebirth 9 | Gem Bag, Guild Map |
| Abaddon | ☆☆☆☆☆ | 362 | 1198 | 17 | 6 | Thor's Rage 7 | Retaliate 8 | Immunity 9 | Maze, Guild Map |
| Yeti | ☆☆☆☆☆ | 465 | 1498 | 19 | 4 | Restoration 9 | Tempest 9 | Bellow | D11-12 Hard Reward |
| Kumiho | ☆☆☆☆☆ | 365 | 1305 | 19 | 4 | Demonization | Rebirth 10 | Gemini | Event Booster, Foxy Duo, Sky Arena |
| Kitsune | ☆☆☆☆☆ | 387 | 1395 | 19 | 4 | Danse Macabre | Unbound | Gemini | Event Booster, Foxy Duo, Sky Arena, Transmutation |
| Oinari | ☆☆☆☆☆ | 215 | 1015 | 20 | 6 | Feral Fever 10 | Rebirth 7 | [S]Resurrect | Event Booster |
| Ridge Hunter | ☆☆☆☆☆ | 359 | 1265 | 19 | 4 | Sweeping Blow | Dodge 6 | Soul Snatch 7 | Guild Map |
| Easter Bunny | ☆☆☆☆☆ | 311 | 1088 | 20 | 4 | Rebirth 5 | Bloodrage 10 | [S]Mass Charm | Holiday Event, Transmutation |
| Night's Slayer | ☆☆☆☆☆ | 355 | 1211 | 21 | 4 | Battleblow 6 | Sweeping Blow | Onslaught | Event Booster, Holiday Event |
| Taurus | ☆☆☆☆☆ | 332 | 1350 | 20 | 4 | Nobility 9 | Earth Totem 10 | Omega Impact | Event Booster, Holiday Event |
| Capricorn | ☆☆☆☆☆ | 383 | 1164 | 20 | 2 | Toxicity 9 | Dodge 10 | Fervent | Event Booster, Holiday Event |
| Scorpio | ☆☆☆☆☆ | ? | ? | 22 | 2 | Dodge 10 | Bullseye | Impale | Event Booster, Holiday Event |
| Soul Shrew | ☆☆☆☆☆ | 321 | 1186 | 21 | 4 | Dodge 8 | Immunity 8 | The Tournament | Faction War |
| Lava Wyrm | ☆☆☆☆☆ | 442 | 1465 | 20 | 4 | Life Sap 8 | Sweeping Blow | Warcry 10 | Event Booster |
| Cosmic Hare | ☆☆☆☆☆ | 286 | 1326 | 22 | 4 | Star Strike | Carrot Toss | Rebirth 7 | Holiday Event |
| Year Beast | ☆☆☆☆☆ | 275 | 1067 | 19 | 4 | Picking Off 6 | Pursuit 7 | Menace | Dungeon Map, Maze |
| Basilisk | ☆☆☆☆☆ | 426 | 1521 | 21 | 4 | Trample 7 | Life Sap 8 | Rampart 8 | Event Booster, Limited Gem Bag |
| Granite Dragon | ☆☆☆☆☆ | 512 | 1632 | 24 | 6 | Bullseye | Immunity 7 | Crystal Ward | Faction War |
| Flare Summoner | ☆☆☆☆☆ | 651 | 1774 | 20 | 4 | Immunity 6 | Rampart 7 | Hellfire | Event Booster, Guild Mall |
| Troll Chieftain | ☆☆☆☆☆ | 486 | 1324 | 21 | 4 | Bloodlust 7 | Feral Fever 7 | Immunity 8 | Limited Gem Bag, Event Booster, Faction War, Sky Arena |
| Sacred Wolf | ☆☆☆☆☆ | 802 | 1952 | 18 | 2 | Rip | Rebirth 7 | Guardian Spirit 1 | Purchase Reward |
| Seker | ☆☆☆☆☆ | 364 | 1663 | 23 | 4 | Immunity 5 | Bullseye | Soul Sunder 1 | Event Booster, Limited Gem Bag |
| Hathor | ☆☆☆☆☆ | 388 | 1475 | 23 | 4 | Overpower 1 | Killing Intent 1 | Power Flux 1 | Event Booster, Sky Arena |
| Ra | ☆☆☆☆☆ | 532 | 1730 | 29 | 4 | Overpower 1 | Solar Blessing 1 | Ra's Wrath 1 | Seal |
| War Mammoth | ☆☆☆☆☆ | 431 | 1521 | 20 | 4 | Immunity 6 | Rampart 6 | Mighty Blow 1 | Event Booster, Sky Arena |
| Emberghast | ☆☆☆☆☆ | 326 | 1326 | 19 | 4 | Blaze 6 | Death Gaze 6 | Phantasm 1 | Event Booster, Sky Arena |
| Draconian Mistress | ☆☆☆☆☆ | 438 | 1375 | 18 | 4 | Sweeping Blow | Rampart 5 | Dragon Blood | Event Booster, Traders |
| Nereid | ☆☆☆☆☆ | 364 | 1274 | 19 | 4 | Tempest 5 | Eternal Tide | Ocean Aria 1 | Event Booster, Sky Arena |
| Dark Savant | ☆☆☆☆☆ | 425 | 1475 | 17 | 2 | Rampart 6 | Sweeping Blow | Frost Blade 7 | Event Booster, Limited Gem Bag |
| Plumed Priest | ☆☆☆☆☆ | 284 | 1364 | 21 | 4 | Immunity 6 | Spirit Counter 1 | Recycle 2 | Event Booster, Holiday Event, Momoya |
Mortii Creatures
Edit
| Name | Rating | Base ATK | Base HP | Cost | Timer | Skill 1 | Skill 2 | Skill 3 | Source |
| --- | --- | --- | --- | --- | --- | --- | --- | --- | --- |
| Hellhound | ☆ | 105 | 334 | 3 | 4 | [D]Tomb Traps 2 | Bane 3 | Bloodlust 4 | Maze, Lucky Spin, Coin Bag |
| Nosferatu | ☆ | 100 | 395 | 3 | 4 | Block 1 | Afflict 1 | Rebirth 4 | Maze, Lucky Spin, Coin Bag |
| Bony Fiend | ☆ | 85 | 258 | 4 | 2 | Bane 1 | Bloodlust 2 | Rebirth 2 | Maze, Lucky Spin, Coin Bag |
| Imp | ☆ | 80 | 275 | 4 | 2 | Meteor 2 | Bane 4 | Meteor 4 | Maze, Lucky Spin, Coin Bag, D1-6 Hard Reward |
| Banshee | ☆ | 90 | 330 | 5 | 2 | Afflict 2 | Anger 2 | Life Sap 6 | Maze, Lucky Spin, Coin Bag |
| Shadowstalker | ☆☆ | 125 | 390 | 5 | 4 | Assassinate 4 | Rebirth 3 | Stabthrough 6 | Maze, Lucky Spin, Coin Bag, D2-4 Hard Reward |
| Nightmare | ☆☆ | 126 | 520 | 5 | 4 | Injured 3 | Ambush 3 | Battleblow 6 | Coupon Bag, Coin Bag, Maze, Lucky Spin, Gauntlet |
| Zombie King | ☆☆ | 120 | 548 | 5 | 4 | Bane 4 | Counter 3 | Reflect 3 | Exploration @ 2-2, 2-4, 2-6 |
| Burnt Fiend | ☆☆ | 140 | 391 | 5 | 2 | Bane 3 | Flaming 3 | [D]Backdraft 4 | Maze, Lucky Spin, Coin Bag |
| Blooddrinker | ☆☆ | 143 | 480 | 7 | 4 | Life Sap 5 | Soul Swap 5 | Death March 3 | Maze, Lucky Spin, Coin Bag |
| Flesheater | ☆☆ | 105 | 443 | 7 | 2 | Meteor 2 | Ice Arrow 4 | Bane 7 | Maze, Lucky Spin, Coin Bag |
| Demona | ☆☆ | 144 | 455 | 5 | 4 | Dodge 2 | Gas Cloud 3 | Frostbite 5 | Coupon Bag, Coin Bag, Maze, Luck Spin, Gauntlet, D3-6 Hard Reward |
| Llorona | ☆☆ | 135 | 413 | 8 | 2 | Bolt 3 | Curse 4 | Rebirth 4 | Maze, Lucky Spin, Coin Bag |
| Plaguebringer | ☆☆ | 100 | 411 | 8 | 2 | Ice Arrow 3 | Plague 2 | Cloudburst 4 | Maze, Lucky Spin, Coin Bag, D3-5 Hard Reward |
| Haunted Idol | ☆☆ | 166 | 522 | 8 | 2 | Block 3 | Reflect 1 | Restoration 4 | Maze, Lucky Spin, Coin Bag |
| Evil Eye | ☆☆☆ | 215 | 675 | 9 | 4 | Contagion 6 | Bane 6 | Assassinate 7 | Gem Bag, Coupon Bag, Coin Bag, Maze, Lucky Spin, Gauntlet |
| Dark Gargoyle | ☆☆☆ | 182 | 728 | 9 | 4 | Ambush 2 | Reflect 1 | Restoration 5 | Maze, Lucky Spin, Coin Bag, Gem Bag |
| The Unseen | ☆☆☆ | 231 | 618 | 9 | 4 | [D]Tomb Traps 4 | [S]Typhoon 3 | Rebirth 5 | Maze, Lucky Spin, Coin Bag, Gem Bag |
| Imp Lord | ☆☆☆ | 171 | 694 | 9 | 4 | Bolt 5 | Afflict 4 | Meteor 7 | Maze, Lucky Spin, Coin Bag, Gem Bag |
| Dark Witch | ☆☆☆ | 180 | 648 | 10 | 4 | [S]Voodoo 8 | Unholy Pact 5 | Curse 6 | Maze, Lucky Spin, Coin Bag, Gem Bag, D6-10 Easy Reward |
| Dark Assassin | ☆☆☆ | 165 | 608 | 10 | 2 | Dodge 3 | Ambush 3 | Battleblow 7 | Exploration @ 3-3, 3-6, 3-8, 3-9 |
| Blightghast | ☆☆☆ | 255 | 822 | 10 | 4 | Bane 6 | Plague 6 | Unholy Pact 5 | Gem Bag, Coupon Bag, Coin Bag, Maze, Lucky Spin, Gauntlet, D7-11 Easy Reward |
| Bone Mage | ☆☆☆ | 122 | 520 | 10 | 2 | Meteor 4 | [D]Pyre Bomb 4 | Rebirth 7 | Maze, Lucky Spin, Coin Bag, Gem Bag |
| Frost Caller | ☆☆☆ | 146 | 553 | 10 | 4 | Frostbite 3 | Voodoo 5 | Fatigue 4 | Exploration @ Dungeon 6-10 |
| Night Terror | ☆☆☆ | 235 | 648 | 11 | 4 | [S]Hobble 2 | Bane 7 | Reflect 6 | Exploration @ 5-1, 5-4, 5-7 |
| Manticore | ☆☆☆ | 160 | 575 | 11 | 2 | Cloudburst 4 | Rebirth 5 | Bullseye | Maze, Lucky Spin, Coin Bag, Gem Bag |
| Bloody Baron | ☆☆☆ | 171 | 723 | 11 | 4 | Counter 4 | Life Sap 7 | Death March 5 | Gem Bag, Coupon Bag, Coin Bag, Maze, Lucky Spin, Gauntlet |
| Necrotic Naga | ☆☆☆ | 184 | 700 | 11 | 4 | Dodge 2 | Bane 6 | Delay 1 | Maze, Lucky Spin, Coin Bag, Gem Bag |
| Pit Minion | ☆☆☆ | 195 | 567 | 11 | 2 | Soul Swap 5 | Bane 5 | Tempest 5 | Maze, Lucky Spin, Coin Bag, Gem Bag |
| Wild Efreet | ☆☆☆ | 166 | 615 | 11 | 4 | Flaming 6 | Detonate 6 | [D]Pyre Bomb 6 | Maze, Lucky Spin, Coin Bag, Gem Bag |
| Pit Priest | ☆☆☆☆ | 295 | 1252 | 12 | 6 | Blaze 4 | Restoration 6 | Reflect 5 | Maze, Lucky Spin, Gem Bag, Coupon Bag, Gauntlet |
| Pit Lord | ☆☆☆☆ | 223 | 900 | 12 | 4 | Bane 6 | Life Sap 6 | Unholy Pact 7 | Maze, Lucky Spin, Gem Bag, Coupon Bag, Gauntlet |
| Eye of Jonara | ☆☆☆☆ | 250 | 882 | 12 | 4 | Soul Swap 6 | Picking Off 8 | Discord 8 | Exploration @ 9-2, 9-6, 9-10 |
| Dullahan | ☆☆☆☆ | 252 | 850 | 12 | 4 | Stoneskin | Battleblow 5 | Rebirth 5 | Maze |
| Hellwolf | ☆☆☆☆ | 162 | 700 | 12 | 6 | Meteor 8 | Death March 4 | [S]Instakill | Exploration @ 10-12 |
| Harbinger | ☆☆☆☆ | 219 | 721 | 12 | 4 | Soul Swap 6 | Dodge 6 | Rebirth 6 | Maze, Lucky Spin, Gem Bag, Coupon Bag, Gauntlet, D6-10 Hard Reward |
| Hell Knight | ☆☆☆☆ | 296 | 934 | 13 | 4 | Battleblow 6 | Unbound | Unholy Pact 6 | Maze, Lucky Spin, Gem Bag, Coupon Bag, Gauntlet |
| Ghostly Judge | ☆☆☆☆ | 310 | 852 | 13 | 4 | Venom Edge 7 | Reflect 5 | Godswill 6 | Exploration @ 12-4, 12-8, 12-12, Sign-In, Token Mall |
| Plague Dragon | ☆☆☆☆ | 240 | 854 | 13 | 6 | Frostbite 5 | Bane 8 | Death March 6 | Exploration @ 9-3, 9-7, 9-11 |
| Bloody Lord | ☆☆☆☆ | 241 | 728 | 13 | 4 | Dodge 4 | Soul Swap 8 | Godswill 7 | Sign-In, Token Mall |
| Cave Dragon | ☆☆☆☆ | 240 | 950 | 13 | 4 | Flaming 3 | Rip | Fatigue 8 | Maze, Lucky Spin, Gem Bag, Coupon Bag, Gauntlet, D9-12 Hard Reward |
| The Puppeteer | ☆☆☆☆ | 198 | 623 | 14 | 4 | Death March 7 | Godswill 8 | Death Gaze | Exploration @ 11-4, 11-8, 11-12 |
| Queen Temptress | ☆☆☆☆ | 186 | 879 | 13 | 4 | Dodge 5 | Immunity 5 | Osmose | Exploration @ 13-4, 13-8, 13-12 |
| Delilah | ☆☆☆☆ | 211 | 866 | 14 | 4 | Discord 10 | Dodge 7 | Soul Swap 10 | Exploration @ 14-4, 14-8, 14-12, Gem Bag |
| Lycanthrope | ☆☆☆☆ | 278 | 822 | 13 | 2 | Life Sap 6 | Battleblow 5 | Dodge 6 | Exploration @ 15-4, 15-8, 15-12, Event Booster |
| Demonic Templar | ☆☆☆☆ | 311 | 905 | 13 | 2 | Rip | Sweeping Blow | Rebirth 6 | Sky Arena |
| Gorgon | ☆☆☆☆☆ | 285 | 1277 | 14 | 6 | Curse 7 | Delay 3 | [S]Disposal | Maze, Lucky Spin, Gem Bag, Coupon Bag, Gauntlet |
| Thalassa | ☆☆☆☆☆ | 240 | 1325 | 14 | 6 | Bane 6 | Death March 7 | Recycle 1 | Seal |
| Dahlia | ☆☆☆☆☆ | 232 | 1155 | 14 | 6 | Sacrifice 6 | Curse 8 | Recycle 2 | Gem Bag |
| Death Knight | ☆☆☆☆☆ | 360 | 1125 | 15 | 2 | Ambush 8 | Assassinate 10 | Rebirth 8 | Maze, Gem Bag |
| Pit Dragon | ☆☆☆☆☆ | 275 | 1350 | 15 | 4 | Rebirth 6 | Unbound | Bullseye | Gem Bag, Coupon Bag, Maze, Lucky Spin, Gauntlet, Guild Map |
| Terror Dragon | ☆☆☆☆☆ | 364 | 1290 | 15 | 4 | Stoneskin | Reflect 8 | Warlust 9 | Gem Bag, Coupon Bag, Maze, Lucky Spin, Gauntlet, Guild Map |
| Spirit Siren | ☆☆☆☆☆ | 310 | 1204 | 16 | 4 | Curse 6 | Seals | Rebirth 7 | Maze, Lucky Spin, Gem Bag, Coupon Bag, Gauntlet |
| Bloodletter | ☆☆☆☆☆ | 381 | 1410 | 16 | 4 | Life Sap 6 | Tit for Tat 7 | Stoneskin | Gem Bag, Coupon Bag, Maze, Lucky Spin, Gauntlet, Guild Map |
| Undying Will | ☆☆☆☆☆ | 354 | 1280 | 16 | 4 | Blaze 7 | Rebirth 5 | [D]Instakill | Maze, Lucky Spin, Gem Bag, Coupon Bag, Gauntlet |
| Magmus | ☆☆☆☆☆ | 350 | 1349 | 17 | 6 | Battleblow 6 | Rip | Immunity 8 | Gem Bag, D10-12 Hard Reward |
| Revenant | ☆☆☆☆☆ | 325 | 1385 | 17 | 6 | Picking Off 8 | Retreat | Immunity 6 | Gem Bag |
| Phantom Liege | ☆☆☆☆☆ | 363 | 1275 | 18 | 4 | Sweeping Blow | Seals | Life Sap 8 | Gem Bag, Coupon Bag, Maze, Lucky Spin, Gauntlet, Guild Map |
| Jormungand | ☆☆☆☆☆ | 478 | 1535 | 19 | 4 | Stoneskin | Reflect 10 | Dispel 9 | Gem Bag |
| Snow Harlot | ☆☆☆☆☆ | 325 | 1150 | 19 | 4 | Mass Heal 9 | Tempest 8 | Ice Coffin | Event Booster |
| Lilith | ☆☆☆☆☆ | 387 | 1285 | 19 | 4 | Discord 7 | Shatter Soul 5 | Godswill 9 | Mortii Booster |
| Killer Queen | ☆☆☆☆☆ | 245 | 1157 | 19 | 4 | Soul Swap 10 | Shatter Soul | Guilt | Guild Map |
| Death's Angel | ☆☆☆☆☆ | 265 | 1267 | 21 | 6 | [D]Instakill | [S]Disposal | Rebirth 8 | Seals |
| Lord Bones | ☆☆☆☆☆ | 512 | 1045 | 21 | 4 | Rebirth 4 | Battleblow 5 | Soul Snatch 8 | Holiday Event |
| Gemini | ☆☆☆☆☆ | 266 | 1055 | 19 | 4 | Pyre 10 | Tempest 10 | Double Trouble | Event Booster, Holiday Event |
| Pisces | ☆☆☆☆☆ | 302 | 1152 | 20 | 4 | Immunity 7 | Rebirth 9 | Mind Fog | Event Booster, Holiday Event |
| Dusk Huntress | ☆☆☆☆☆ | 364 | 1211 | 21 | 4 | Reflect 10 | Dodge 9 | Delay 4 | Event Booster, Holiday Event |
| Chiroptera | ☆☆☆☆☆ | 422 | 1233 | 22 | 4 | Frost Armor 7 | Shatter Soul | Swordplay | Event Booster |
| Lich Lord | ☆☆☆☆☆ | 376 | 1335 | 21 | 4 | Rebirth 7 | Souleater 8 | Siphon Soul | Relic Chest |
| Octavius | ☆☆☆☆☆ | 621 | 2150 | 27 | 8 | Hollow | Bombard | Renewal | Relic Chest |
| Virgo | ☆☆☆☆☆ | 325 | 1167 | 23 | 4 | Summon Virgil | Death Gaze | Soul Bond | Sky Arena |
| Osiris | ☆☆☆☆☆ | 375 | 1432 | 22 | 4 | Soul Harvest 1 | Battleblow 5 | Immunity 7 | Event Booster, Transmute |
| Anubis | ☆☆☆☆☆ | 464 | 1298 | 22 | 4 | Shatter Soul | Immunity 7 | Wraith Fire | Maze |
| Tomb Raider | ☆☆☆☆☆ | 223 | 1253 | 22 | 4 | Dodge 6 | Delay 4 | Corpse Manipulation 1 | Event Booster, Holiday Event |
| Belphegor | ☆☆☆☆☆ | 354 | 1264 | 18 | 4 | Maji Shield 8 | Dispel 8 | Stigma 1 | Faction War |
| Lord Aldritch | ☆☆☆☆☆ | 687 | 2-42 | 21 | 4 | Shatter Soul 8 | Revive | Mythril | Momoya |
| Space Invader | ☆☆☆☆☆ | 323 | 1363 | 19 | 4 | Sweeping Blow | Nobility 7 | Life Sap 7 | Primal Rifts, Event Booster |
| Nefarious Witch | ☆☆☆☆☆ | 411 | 1422 | 20 | 4 | Immunity 6 | Recycle 3 | Dark Reversal | Momoya |
| Diablo | ☆☆☆☆☆ | 529 | 1850 | 29 | 4 | Soul Burn 1 | Bone Wall 1 | Scorn 1 | Seal |
| Abyss Walker | ☆☆☆☆☆ | 352 | 1264 | 21 | 4 | Plunder Vitality 1 | Rebirth 7 | Elemental Shift 1 | Momoya, Event Booster |
| Rakshasa | ☆☆☆☆☆ | 289 | 1326 | 19 | 4 | Plunder Vitality 1 | Soul Eater 1 | Soul Purge | Lucky Spin |
| Don Cervantes | ☆☆☆☆☆ | 467 | 1273 | 18 | 2 | Rebirth 6 | Battleblow 6 | Bullseye | Event Booster, Limited Gem Bag |
| Dark Diviner | ☆☆☆☆☆ | 276 | 1212 | 19 | 4 | Sacrifice 7 | Rebirth 6 | Ominous Omen 1 | Event Booster, Giftbox |