Your Deck is the collection of a Hero Card and multiple Creature Cards that form the team that allows you to battle in Deck Heroes. With your Deck, your lone Hero will always fight for you at the start of every Battle, but Creature Cards are drawn randomly, so a strong Deck should not rely soley on one Creature card or one combination of Creature cards.
Creating your Deck
Edit
Tap the Deck icon in the menu on the main screen to open the Deck interface. A Deck is your basic Battle team and consists of 1 Hero and a variety of Creatures.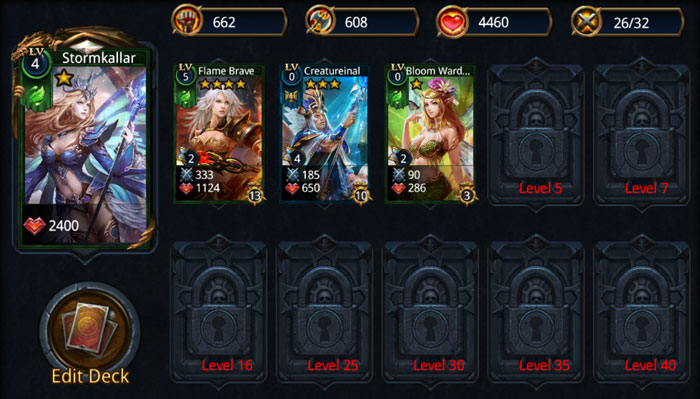 To edit your deck, tap the Edit Deck button to open the Deck editing interface. Here you can edit the Hero and Creatures in your Deck and rrange them in any combination you desire.
Deck Slots
Edit
As you level up your Player Level, additional Slots will become available that will allow you to add more Creatures to your deck. Once you have achieved level 40, you will have access to the full number of cards allowed in any deck which is 1 Hero and 10 Creatures.
Cost & Resource is displayed in the top-right of the Deck Editing screen. Cost Displays the total Cost of your deck's cards as well as the Resources offered by your Hero.  In the image above, the Cost of this deck is currently 108, while the resources available is 147.
The total Cost of your deck cannot exceed your Hero's current Resources, which is a function of the Hero's star-rating and the player level. Cost is almost always directly related to the Creature's strength, with the intention of balancing out decks and ensuring that low level players do not have only 5-star creatures.
At the moment, the maximum amount of Cost that can be obtained is 206 (which is obtained at level 110).
You may choose to sort your collection based on Factions or Skills to make it easier for you to find a specific Creature while creating your Deck.
Locking Cards
Edit
You can Lock cards which will prevent you from accidentally selling or using them as fodder for Enhancement or Melding. Simply click the Lock button in the bottom right of your screen.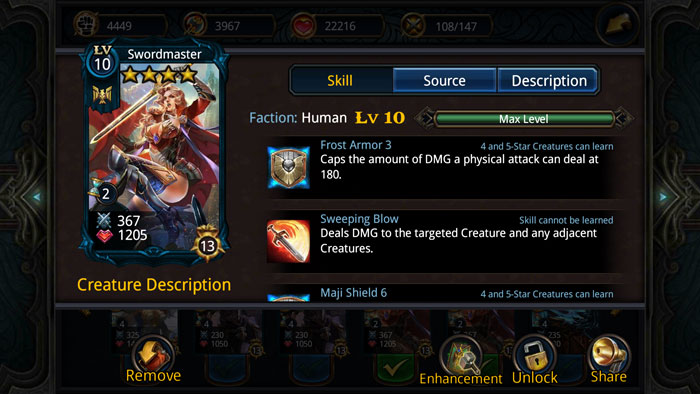 Community content is available under
CC-BY-SA
unless otherwise noted.