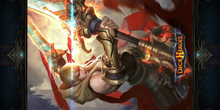 "I fight for the survival of the Faen!"
 Description
Edit
Garerond's Shade is a 5-star Hero of the Faen faction who was introduced along with the 11.4.0 update.
Acquiring this Card
Edit
He is available to purchase from the LP Mall for 600 Lucky Points. You can also get him from Lucky Spins.
Hero Skill
Edit
Shade's Descent (level 1) - Summons a Shade with Iron Will, Poise 1, and Awaken Galerond 1 into Battle. Upgrade the Hero's Skill to increase the Shade's ATK and Max Hp. Only 1 Shade can be summoned at any time.