Referral codes.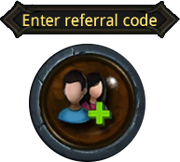 All codes
give 2
Coupons
, Some
Gold
, and 50
Gems
every time, no matter what some people claim. The referral code can be used multiple times, but only once per user account.
Activating a Code
Clear dungeon 3-1, then go into menu. There will be a tab marked reference code.
Spamming
Please be courteous and responsible when sharing your reference code. We have blocked a few IP-numbers for relentlessly spamming. To ensure you won't ever get in trouble, please follow a few common-sense rules below.
Posting your Code
Post your code only once per 24 hours.
Don't post again if you are already the most recent (top) poster.
Don't add content specifically designed to push other players off of the page. Being on top is fine but don't hide your fellow players by spamming them off the page.
DO NOT EDIT THIS PAGE TO ADD YOUR CODE. Post the code in the comment section below.
DO NOT LIE ABOUT THE REWARDS. Every code rewards the same rewards written above. Do not lie about the rewards, like "type xxxxxxxxxx will get you a free 5 star champion!"
Failure to follow these guidelines can result in a ban, and all posts from the user/IP will be removed. YOU HAVE BEEN WARNED!
Community content is available under
CC-BY-SA
unless otherwise noted.